The Icon of the Blessed Virgin, during her tour in the province of Santo Domingo, visited the parish of St. Vincent Ferrer in the community of Andoas, the north-west part of the diocese.
She was very welcomed by the parishioners, so much that even a sporting event was suspended so it would not interfere with the reception of the Mother of God.
This community is located two hours from the downtown of Santo Domingo. It is a rural area, so the trip was long and delayed in arriving. However, the parishioners waited patiently to meet Her.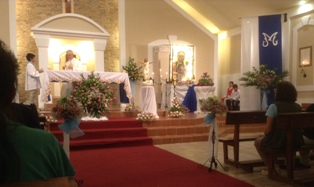 The Virgin visited her children from May 26 to May 27. She arrived escorted by a caravan of vehicles. For the reception the Holy Eucharist was celebrated and then She was venerated until midnight. The next day, Mass was also celebrated in the morning and all afternoon the Icon was accompanied by the inhabitants of the community, basically young people who collaborate with the John XXIII movement, groups of catechesis and of the missionary childhood.
The altar was delicately decorated with flowers and a large flag was placed with the colors of Our Mother: blue and white.