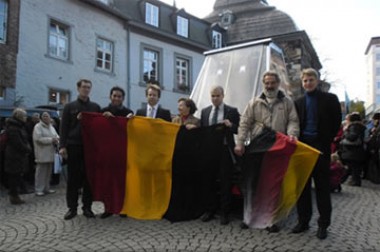 "Behold, your mother…from that hour the disciple took her to his own home" (John 19:27)
Coinciding with the Catholic Church's celebration of All Souls Day on November 2, the Icon of Our Lady of Czestochowa graced the Kingdom of Belgium. The Icon was solemnly transferred to the Belgian delegation at the Aachen Cathedral in Germany at 12 noon.
There was a very touching scene when the sacred image was leaving the Aachen Cathedral in the "Life Mobile," – a lady was crying as she was waving a handkerchief to say goodbye to Our Lady.
From Aachen, the first stop of Our Lady of Czestochowa's icon was in Liege. However, it seemed that the "enemy" was afraid of Our Blessed Lady's visit to Belgium and wanted to put a stop to it because the car with the sacred icon had an engine problem on the way to Liege. The Belgian delegation prayed the Holy Rosary to ask for help from Our Lady. As if by a miracle, before the last Mystery of the Rosary was finished, a kind German delegation arrived with a car to help transport the Life Mobile with the Icon to the city of Liege.
A Eucharistic Celebration welcomed Our Lady at the l'eglise du Saint-Sacrement (Church of the Blessed Sacrament) in Liege. A medieval saint, St. Juliana of Mount-Cornillon lived in Liege (1193–1258) who had a vision which caused her to request that the Catholic Church to celebrate the Feast of Corpus Christi.
After the Mass, the Holy Icon was transported to Banneux, which is also a holy site, where Our Blessed Mother had apparitions between January 15 and March 2, 1933 to Mariette Beco. While the people were venerating the Icon of Our Lady, there was also silent veneration and the Sacrament of Reconciliation available for those who attended, which was held at the Chapelle du Saint Sacrement (Chapel of the Most Holy Sacrament) in Banneux.
Michel de Keukelaere Belgium