Dear friends!
It was high time to save from degradation the Icon of Our Lady of Czestochowa peregrinating "From Ocean to Ocean" in defense of life. Hundreds of thousands of people touched Her, but it was the hot and humid equatorial climate that hurt Her the most.
We joked that the Mother of God, like every elegant woman, went to the beauty salon again :).
Excellent, experienced conservator
We have already received a professional report on the renovation of the Icon. This difficult work was undertaken by Ms Nelly Margarita Peralta Viera, who is a real expert in the conservation of historical artifacts, including old icons. In addition, she is well acquainted with the problems caused by moisture, fungus and the hot equatorial climate.
She studied in Poland!
Her teachers were the late prof. Ewa Marsen-Wolska - a world-famous conservator of monuments, art historian, co-founder and lecturer at the Department of Art History at the University of Lodz - and her husband Jerzy Wolski - an artist, conservator of painting and polychrome sculpture. They both died in 2013. It was a very loving marriage. He passed away only 10 days after she did. They couldn't live without each other!
The work of a conservator in the conditions of Ecuador
Ms. Peralta returned to Ecuador and for many years she has been working as a conservator of historical artifacts, specializing in problems resulting from damage caused by the adverse impact of the equatorial climate that prevails in Ecuador, and it is deadly for a traditionally made icon. It was impossible to find a better specialist.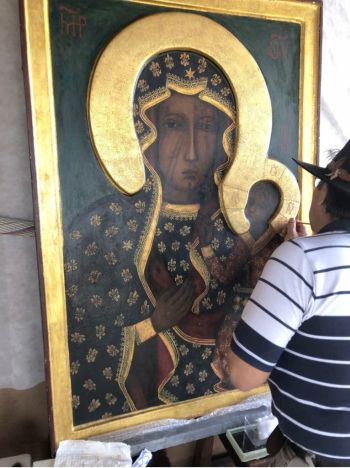 "I feel honored!"
It can be said that Our Lady provided herself with the best "beautician". Is it not surprising that in distant Ecuador there was such a competent person who studied in Poland for many years and is a great devotee of Our Lady of Czestochowa. Ms. Peralta has repeatedly emphasized that she is very happy and honored that it was her responsibility to carry out this conservation. She gave her all, and it was about time! Mrs. Nelly Peralta has repeatedly emphasized that the possibility of restoring this Icon was a great happiness and privilege for her. She gladly spent many hours of work, thus expressing her love for the Mother of God.
What was the state of the Icon?
We must admit that we have recently started to fear that the Icon will not be irretrievably damaged. A long stay in the equatorial zone is dangerous for Her, and a recent trip to the very poor diocese of Portoviejo, located in a wetland near the Pacific Ocean, and constant transport in poor conditions caused a lot of additional damage. We were most afraid that the fungus would get between the plank and the canvas of the undercoat and the Icon would be unsavable.
Mrs. Peralta described it this way: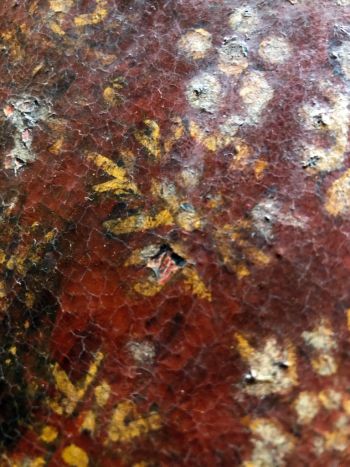 "At first glance, you can see that the Icon is covered with gray-greenish dust, which means changes under the influence of equatorial weather conditions (high temperature and high humidity). The icon is covered both on the front and back by a type of mushroom. In addition, the base of the icon is completely cracked, which is due to the work of wood and material. In many places you can see the pigment flaking off. You can see the color change (inside and on the surface) of the Icons. "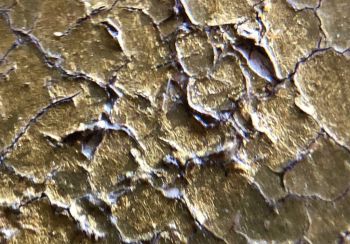 Professional examination of the condition of the Icon
A magnifying glass was not enough. Various laboratory tests and photos were taken before conservation using different types of light.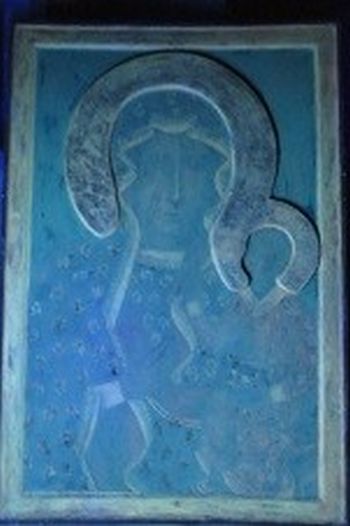 Cleaning and vacuuming
It is not an easy matter. Debris must be removed, but the Icon must not be damaged. The fungus and the falling off pigment fragments were skillfully removed: scraped off and cleaned with a specialized low-power "vacuum cleaner". At the front and rear.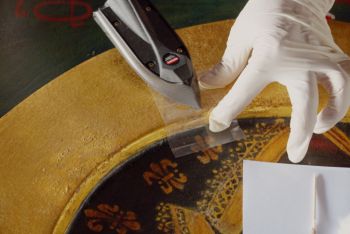 Brush and sponge
Then the whole icon (the front and back) were cleaned mechanically with a brush with very delicate bristles. In more dirty areas, a slightly damp sponge with an alcohol solution was used, but very gently, because the treatment with alcohol on such a delicate surface could not exceed two minutes.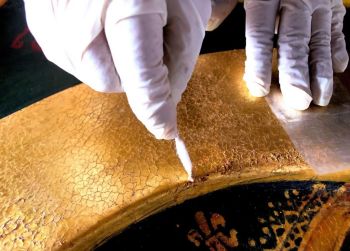 Removal of accumulated layers of varnish
Later, chemical cleaning was applied to remove sticky substances (resins) and residues from earlier icon restorations. A solution of demineralized water with a temperature of 70 degrees Celsius with 2% glacial acetic acid was used for two minutes with a sponge and a cotton cloth.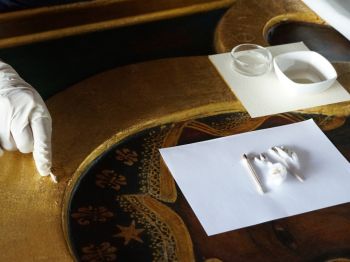 Gilding repair
Gilding, especially on larger surfaces, such as nimbuses or fields (frames), was badly damaged. Mrs. Peralta removed the remnants of previous attempts to restore these fragments and improved the gilding where possible, especially where the defects were already visible.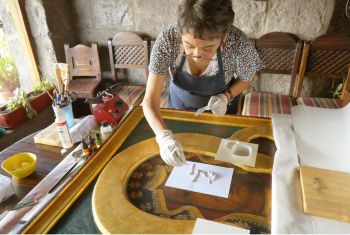 Recommendations
First of all, the Icon needs to be protected more. It should not be touched with hands and should not be excessively illuminated, especially with sunlight. It should not be exposed to changes due to heating or cooling air conditioning, which causes deformation of the board and peeling off the paint layer.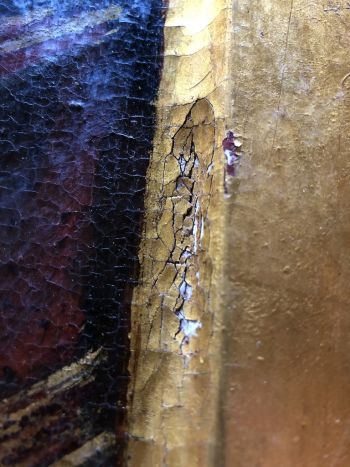 It must not be cleaned with wet or damp objects, but, if necessary, with a dry, non-greasy, very soft brush. It should be protected against moisture and therefore should be in well-ventilated rooms.
Mrs. Peralta advises to put her in a special climatic chamber.
It is not easy to do!
We don't know if it's possible at all. The icon is passed from hand to hand! Some are doing better, others are worse. However, there were various situations on the route. Transporting, carrying and setting up in different places causes additional damage. The icon should be visible to everyone, so it is difficult to hide it from sunlight. Maybe the solution would be a photochromic glass? Building a special, air-conditioned chamber would requires ventilation and constant supply of electricity, which in practice would make Her further peregrination impossible. There are many doubts and questions!
In addition, we simply cannot afford to build such a structure, in South America conditions. However, we must protect her better!
Where is the Icon now?
The COVID-19 pandemic has brought peregrination to a halt. This time was used for maintenance that took place in Quito, the capital of Ecuador. And there, of necessity, the Icon had to remain. The level of the pandemic has been very high in this region of South America. Quito has become a closed city. There was even a curfew and a travel ban. So the Icon of the Mother of God is also imprisoned. However, it is in a safe place under the care of a conservator. During this time, She made several unofficial visits to private homes. The trip to the Galapagos Islands had to be canceled. So is the onward journey to Colombia.
The pilgrimage of the Icon of Our Lady of Czestochowa arouses great interest in this region. The Marian piety of Ecuadorians alleviates many of the difficulties they are experiencing today, such as poverty and the pandemic.
We still have to wait!
There is no way out, we have to wait. We trust, however, that the pandemic will finally end and that Our Lady, in Her Icon, will continue her journey. We must be prepared and as best as possible to secure the Icon.
 Ewa H. Kowalewska - international coordinator of the "From Ocean to Ocean" peregrination