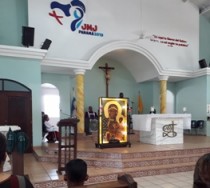 Since the World Youth Day in January, the Icon of the Virgin of Czestochowa is visiting different parishes of the Archdiocese of Panama.
In the words of Angel Ruiz Stecco, delegate of Fr. Francisco Verar and of the Archbishop of Panama, Monsignor Jose Domingo Ulloa, Her pilgrimage has been providence, since they have not insisted on making plans, but come to the parishes at special moments.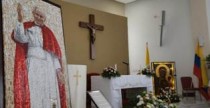 Panama received thousands of pilgrims for the World Youth Day and among them a group of young people from the Diocese of Arauca Colombia accompanied by Fr. Fabio Celi.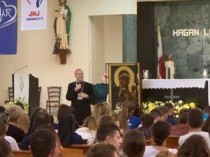 The Pilgrim Icon of Our Lady of Czestochowa arrived on Thursday morning of January 24, at the parish of St. Luke in the sector of Costa del Este, in Panama City, where the World Youth Day is being held with Pope Francis. The Icon arrived from the Parish of St. John Bosco in the sector of Albrook Mall, where She was the previous day in a Holy Mass with Polish pilgrims. They met for a special concert night that was called "From Poland To Panama".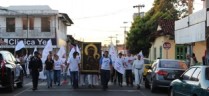 The Icon of Our Lady of Czestochowa traveling through the world on  January 12, 2019 arrived from the capital of Panama to Chitré.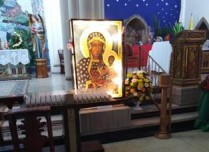 For  the Icon of Our Lady of Jasna Gora December 12, marked the beginning of the third week of being in the Church of Carmen. More and more people are attracted to the painful face of the Virgin Mary, a wounded face and a swollen cheek that is almost unknown here. People want to know how the wounds were made and once informed that the original Icon was attacked by Czech Husyts in the fifteenth century, they are amazed at such irreverence.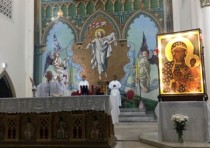 On Wednesday, November 28, the Icon said goodbye to the FETV Catholic television channel at 4:00 p.m. and was transferred to the parish of Nuestra Señora del Carmen, where it will remain for two weeks.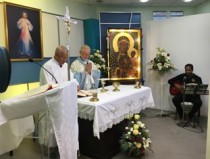 The Icon of the Virgin of Czestochowa, which travels the world from ocean to ocean carrying a prolife message, remained Monday through Wednesday at the Catholic TV channel FETV. On Tuesday morning, Father Leon Juchniewicz, a Polish missionary who accompanies the Icon, offered mass on the television channel in the presence of the Icon and was later interviewed by Father Francisco Verar, director of the FETV channel and founder of the Community Magnificat.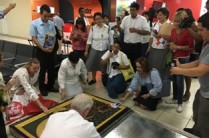 The icon of Our Lady of Czestochowa
"From Ocean to Ocean"
will participate in the World Youth Day
On Sunday, November 11, the faithful and inhabitants of the San Antonio de Padua Parish of the Citadel Ibarra, participated in a special celebration of the visit of the Icon of the Virgin of Czestochowa in their community.
The occasion was  an opportune to bless a Grotto dedicated to the Virgin of "El Cisne".